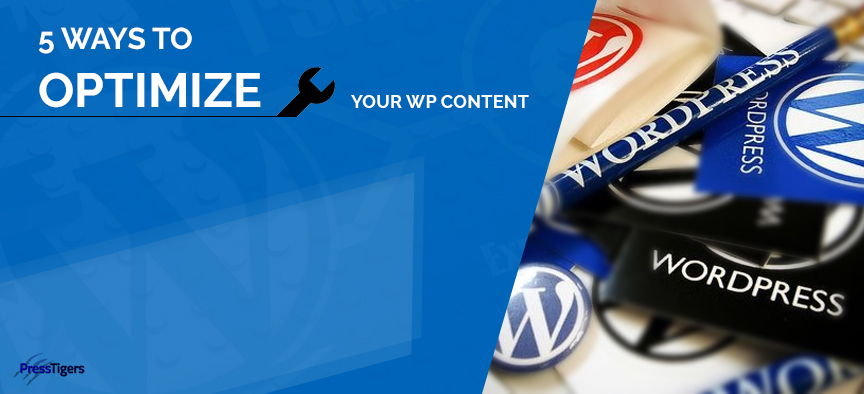 PressTigers
5 Ways to Optimize your WP Content
Whether you run a popular, large scale, WordPress application or a small blog on an economical shared host, you should optimize your content to remain relevant and visible.
There are more than 50 million blogs around the world that use WordPress as their CMS (Content Management System). This notably high number leads to higher competition. So, if you are using WordPress, you need to prepare strategies that will distinguish you from your competitors and attract more and more traffic to your site.
WordPress Configuration

Use themes that are fast and lightweight; they perform more efficiently than heavy graphic reliant themes. The number of plug-ins too will have an impact; deactivate or delete unnecessary plug-ins to enhance the performance of your site.

Software Performance

Software upgrades often fix bugs and enhance performance. Keep up with WordPress upgrades and make sure you're using the latest version of LAMP or hosting environment.

Server Load

Hostile traffic such as brute force, image leaking (other sites linking to your image files from high traffic pages) or DDoS attacks can increase the server load. Identify and block abusive traffic. If you don't use server caching, performance will slow to a halt as additional page requests come in and stack up, often crashing your web or database server.

Size of Graphics

Optimize the images in your posts for the web and save time, bandwidth and increase your search engine ranking.

Geographical Distance

The distance between your server and client (a.k.a. hops) also effects perceived performance. A Content Delivery Network (CDN) can mirror static files and images across various geographic regions so that all of your site visitors have optimal performance.