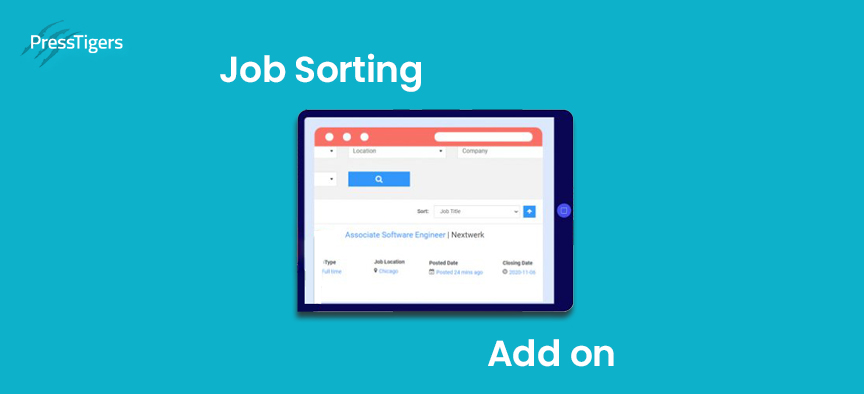 PressTigers
Get the Best Job Sorting Add-on by PressTigers
It is always a smarter way to streamline the work, shorten the time span required to complete it with minimum resources, and achieve your goal. Job sorting add-on and simple job board is also a way to manage job board more effectively, by simply installing the add-on on your WordPress site. You don't have to do anything extra, all you can do is search and the list will appear in front of you.
Crystal Paine said that,
"If you want to be more productive, you need to become master of your minutes."
We can use these easy to use tools and methods to streamline the workflow that concerns job listing, job sorting and so much more. Imagine the hours and effort that this simple add-on can save. It would be more convenient for your recruiters, and you can also see everything on the dashboard through sorting filters. Isn't this incredible?
Many people who already have simple job board on their WordPress website, are always looking for budget-friendly solutions to get the most out of it. Once you have a simple job board, you have access to customizable features, plugins, add-ons, and much more. You can take a look at PressTigers marketplace: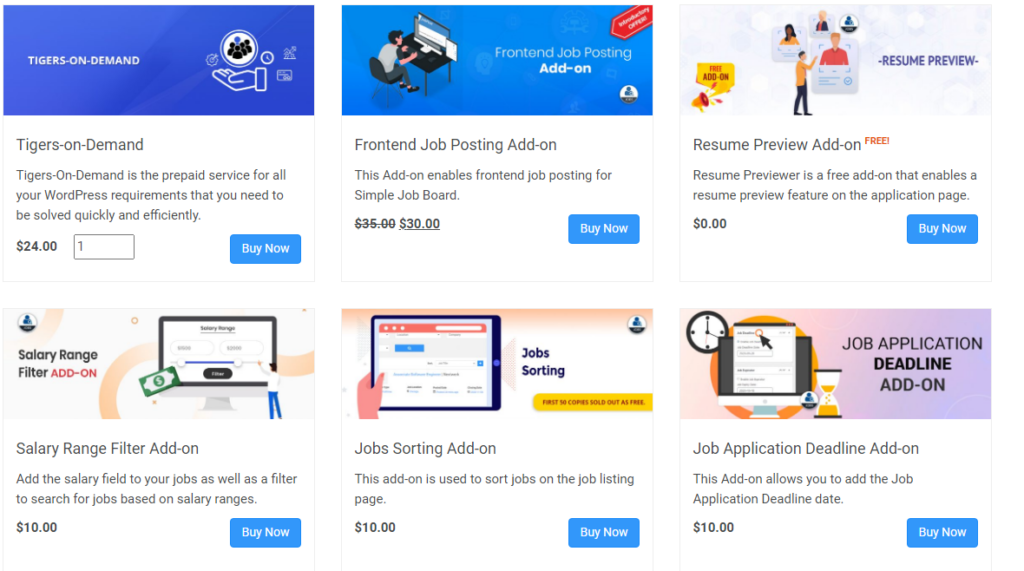 So we decided to present the most simple, affordable, and user-friendly job sorting add-on.
Let's get to know it.
What is job sorting add-on by PressTigers?
If you are looking for a simple job sorting add-on that can help you with the sorting filter, well your prayers have been answered. Here's one of the most popular add-on at the moment. It is easy to use, lightweight, and can help you greatly with the job listing page. You don't have to maintain files and documents, because now you can manage, search, and sort the job lists all in one place.
The sorting filter is inculcated in the job board plugin with this add-on. Which means that you get to enjoy this lightweight add-on that can sort the jobs based on
Job Title
Job Posting date
Job Deadline date
With this sorting add-on, you get to enjoy its compatibility with all job search filters and Job application deadline add-on. You can sort out the jobs in both ascending and descending order.
Access Fantastic Plugin Features with job sorting add-on
There are different features within the job board plugin, and the add-on for job sorting adds a cherry on the top. You can have so many benefits that allow you to sort jobs on the basis of
Job Titles
Job Application deadline
Job Location
Job posting dates
Ascending order
Descending order
Moreover, it is said to be compatible with:
Job Search Filter
Job Level Filter Add-on
Job Industry Filter Add-on
Company Details & Filter Add-on
Job Application Deadline Add-on
The purpose of these add-ons is to add more productivity and efficiency to your workflow. That would enable you to save time and effort. Moreover, you can also get these features at such budget-friendly prices. If you want to avoid the risk of breaking your bank, well check out this add-on.
You can take a look at the job sorting options within the add-on: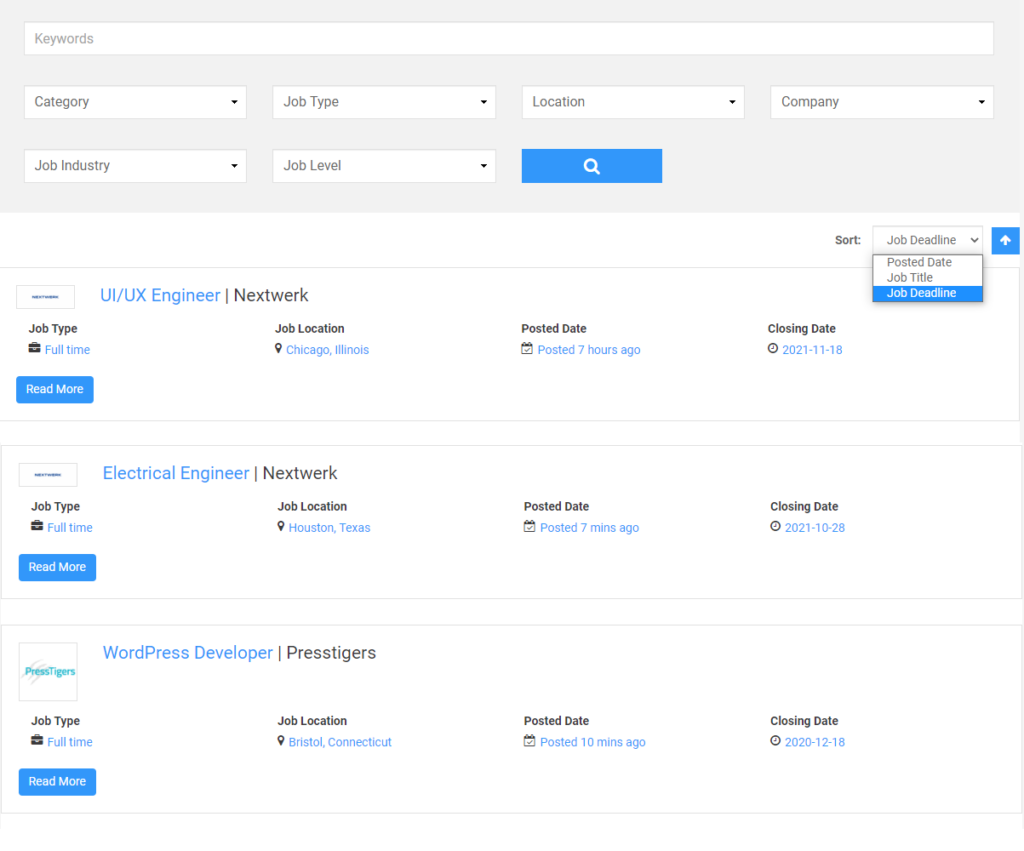 You can see everything on the job listing page, once you install the add-on: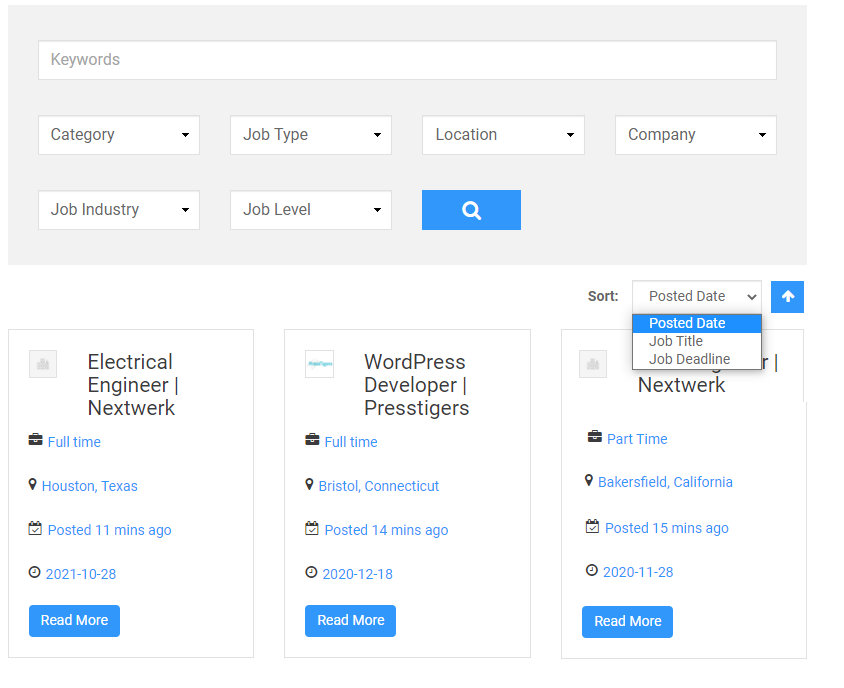 Get job sorting Add-on for Job Board with WordPress
With the job sorting add-on, you can make job sorting easier, simpler, and transparent. You can simply search for the job applying all the given features.
You can get your hand on it today!