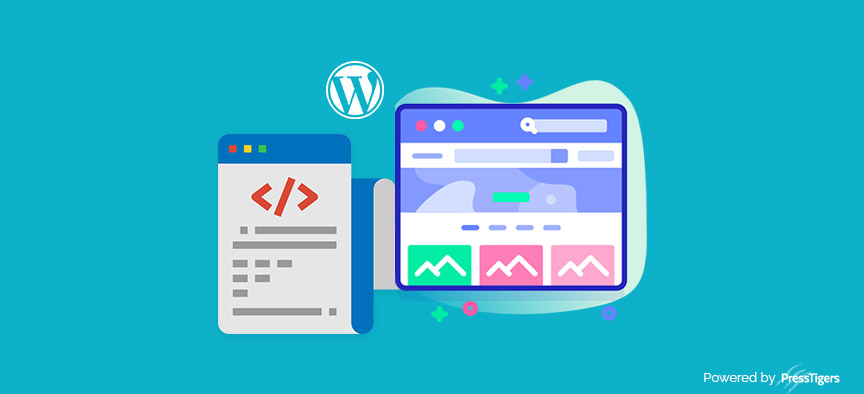 PressTigers
Build a successful WordPress website with best UI practices
To design the best WordPress website and attract the right kind of audience, you have to add the best UI practices for a nicer design and flawless functionality. If you aim to impress the modern user with cool, beautiful designs and simultaneously want to optimize your website for better speed. This article will help you adapt the best practices to create an inviting and user-friendly website design to make the visitor stay.
Do you want to see the best UI practices for WordPress?
Nothing is ordinary, each and every plugin, design, and theme incorporates in creating a successful user experience. If you want the visitor to leave the website as a happier user, then you definitely need this guide. Let us walk you through the journey called, "How to better optimize your UI WordPress website?"
Here's how you can leave a lasting impression on your users with powerful UI best practices:
Lots of plugins and themes are involved to build the ecosystem of the WordPress website. Remember that in these modern times, the success of your website holds the key to a successful business. Intuitive UI designs show that you know your audience, and they help you achieve your goals for the website.
Get to know the best UI practices
How can you ensure a better user experience with UI? Let's jump in without wasting a second:
Style Links with Underlines
Browsers underline links are used to let the user understand what is clickable. It is advised that avoid the use of CSS to turn off underlines for hyperlinks. This results in usability and accessibility problems, as it makes it harder to identify hyperlinks from the text.
Logo Homepage Link
Logo on each web page carries your user to the homepage. Your logo is in your theme directory, the code is in the header.php template file. Check the code example below.
Example :
<

a

href

=

"

<?php

echo

home_url

(

)

;

?>

"

>

<

img

src

=

"

<?php

echo

get_stylesheet_directory_uri

(

)

;

?>

/logo.png"

alt

=

"Home Page"

/

>
Various Link Colors
Color acts as a visible cue that the text is clickable. Styling hyperlinks with different colors than the one around the text makes it easier to distinguish.
Hyperlinks consist of three states. The two most important states are visited and unvisited.
There are 3 other states that links can have:
l  Hover : when a mouse is over an element
l  Focus : similar to hover but for keyboard users
l  Active : when a user is clicking on a link
Why the role of Color is important in UI?
Color is a vital design element, that plays a significant role in branding. It allows your user to associate the color with your brand. You can portray your brand image through the use of color in web design.
You can pick a primary and secondary color and lighter and darker hue respectively to complement the whole design. Try to limit the use of color so that multiple accents don't become an eyesore.
There are three types of color blindness: total color blindness, two-color vision, and deficient color vision. So you have to make sure that your design is still available to all irrespective of color alteration.
Color Contrast
Color contrast is essential because it shows the difference between primary and secondary colors. WebAIM, a non-profit web accessibility organization, provides a color contrast calculator to help you settle the contrast in your website design.
Choose the color based on its ratios and contrast points in light to differentiate between the foreground and background. Website visitor or user can easily differentiate
Pro Tip:
The use of high contrast color options like black text on a white background to make your site readable.
You can use these tools to check color contrast ratios, include:
Suitable Typography and color
Google Fonts offer a wide variety of free web-safe fonts that you can use for a proper display to match your color aesthetics. You can also pair up google fonts with popular combinations. FontPair provides your suggestions in this regard.
Keep in mind to restrict the font weights you use, as having to load too many files can contribute to reducing page speed. You can consider hosting Google Fonts locally to introduce extra performance benefits.
Put up clear and large enough text, that is readable for the user. It increases the usability of the website, and the visitors can understand the content clearly. 14px is the smallest text should be.
Associate Labels with Inputs in UI Design
Labels familiarise the user with the input field. You can link the label to the input by using them for an attribute in the label. This will let the user click the label and focus on the input field.
Example :
<

label

for

=

"username"

>

Username

<

/

label

>

<

input

type

=

"text"

id

=

"username"

name

=

"login"

/

>
Placeholder Text in Forms
Placeholder text presents the user as an example of what to type. When a user sets their cursor in the field, the placeholder text will disappear, while the label remains.
Example :
<

label

for

=

"name"

>

Name

<

/

label

>

<

input

type

=

"text"

id

=

"name"

name

=

"name"

placeholder

=

"John Smith"

/

>
Use placeholders to suggest the type of data a field requires, and not as a substitute for the field label.
Descriptive Anchor Text
The anchor text is the apparent text for a hyperlink. Good link text should give the reader a thought that will take place when clicking it.
The best way to learn WordPress is to start using it. Download WordPress, click here.
Simple User Interface (UI)
If you make a simple interface, it will help your web users and customers to easily navigate through the app or website. Create your ideal design and start experimenting with color palette and typography, using feedback messages and simplified contact forms.
People are naturally attracted to simple and neat looking design. Don't stuff website with features, unless necessary. Users don't care about the features or functionality, but they want to use the website with comfort.
Responsive UI Web Design
Responsive website and web designs add a great deal to the modern user experience (UX). People are running their businesses on smartphones. So your WordPress website should be responsive enough that it can adapt to all screen sizes whether its mobile or a tab. A great website provides a similar and better experience on every screen.
Two heads are better than one- Build your own customized Website
If you are looking to build a website that fits your business idea and meets the user's needs. Discuss the idea with us, and let's get on it. vteams is here to assist, as you optimize your WordPress website.