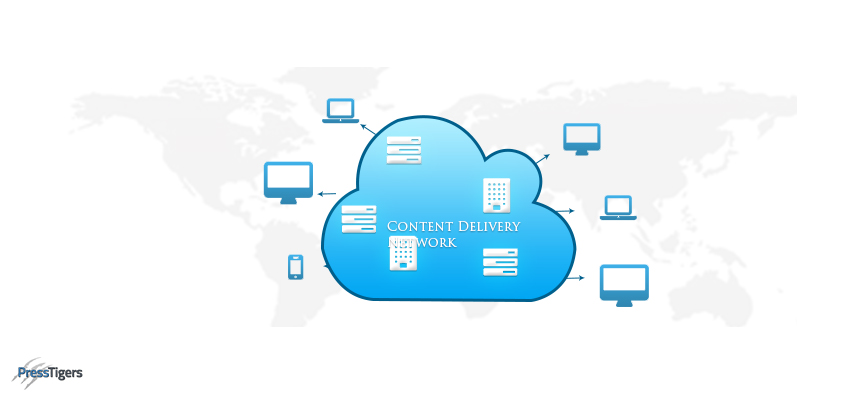 PressTigers
CDN – An Ultimate Need Of Your WordPress Blog
CDN (Content Delivery Network) is an effective network that uses Geographic location of the users to feed cached copy of the static content to them. It makes life very easy for you as it helps you finding the nearest server that relates to your main server located in some other country. For instance if your main server is ion Houston, TX you can find the nearest server through CDN server redirect in London or any other nearest place in England if that is where you are located at present. The Internet Hops that are required for the transmission of the static files can be confined in this way. Load Time is clearly influenced by the Proximity of users on your web server. It is highly suggested to curate the desired content all across the multiple servers placed at different locations to add speed to the Page Load for the users. This is where CDN becomes effective. We can comfortably say that CDN needs to be closest to the users looking to get the content from a distant server.
When Does The Need Of CDN Develop?
There are number of advantages for a website that are attached with the application of CDN as understood via above discussion. Some of the most striking advantages of the CDN are listed below:
-Faster Page Load:
The websites utilizing the CDN have a faster page load with better performance.
-Avoid Crashes:
You can imagine lots of website crashes with more and more data being added to it from your users in form of articles and reviews. But thanks to CDN, it was never going to be the case as CDN helps in distributing all the website data on a vast array of servers to share the load. This saves the main website server from being over-crowded and extensive crashing.
-Evolved User-Friendliness:
The major aspect that shows the user friendliness of CDN is the fact that it reduces the bounce rate of the website. After using the CDN, the page reviews were also increased. This means that users remained pleased with the performance of the site after the use of CDN.
-SEO gets better with CDN:
The faster the site is, the friendlier it is to Google and other search engines for better search engine rankings. The use of CDN lead to improvement in the search engine rankings of our website.