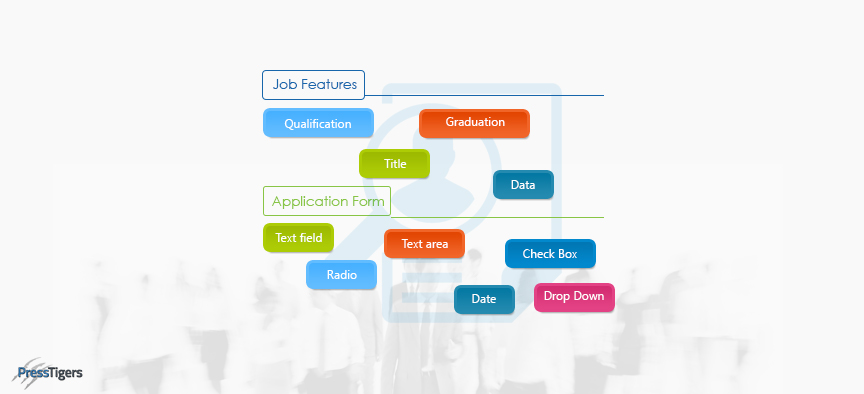 PressTigers
Difference Between Job Features & Application Form Fields
Using Simple Job Board it's damn easy to build a job board and to publish your hiring needs on your website. But in fluency of steps, sometimes people bothers between two elements which seems like similar on 'Add New Job Page':
While using Simple Job Board, we need to understand the difference between Job Features and Application Form Fields.
Pardon us if we sound like a kid to development community but this article is more for website owners or new comers to this paradigm.
Job Features:
It is something which defines criteria for a particular job which you want to publish on your Job Board like what should be the Qualification of a resource, Age limit, offering salary etc. It is a set of information which you want to let the candidates know that they should meet these requirements before applying for a position.
While using it, you will create a feature with a title and provide a data against title like Qualification in Title and Graduation in Data.
Application Form Fields:
These are mainly the requirements for a job like you will like to ask the First and Last name of resource or his/her desired salary. All that information which you want to get from a candidate can be managed through Application Form Fields rather than resume because Attach Resume option is there by default.
Here you will create a field with title like First Name and then you have to select it's type. Available types are:
Text field
Text area
Date
Check Box
Drop Down
Radio.
You have the liberty to get date in a proper format as well as get long paragraphs using text area etc. Once you will add features and user fields in job ad, it will be exposed like the screenshot below: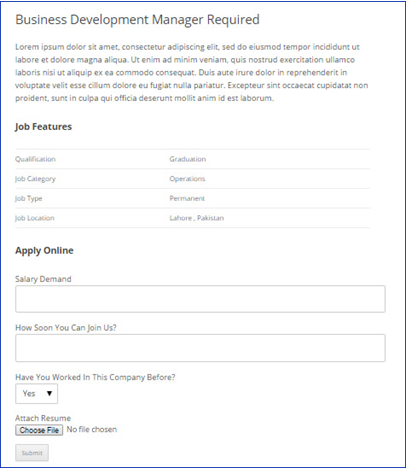 In our next article, we will provide you more details on how to use Check Box, Drop Down and Radio buttons.