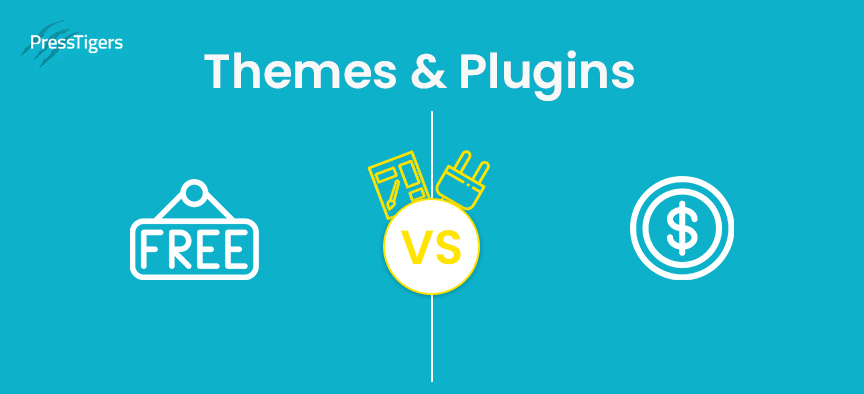 PressTigers
Free Vs Premium Plugins & Themes
Can't decide between free or premium plugins and themes?
This question is most frequently asked by beginners when they are about to get started with WordPress sites.
However, we will cover both the ideas separately.
You will learn the advantages and disadvantages, as well as everything you need to understand about the free or premium plugins and themes to use.
Let's begin the conversation!
WordPress Free Vs Paid Themes
Free WordPress Themes
Just as the name outlines, free themes are accessible to anyone. This is the biggest advantage that you can get, especially if you are a startup company and there is not a defined budget to buy a premium site.
But these are typically created by junior developers, and they somewhat do not have detailed features, also have limited support.
It is believed that these free themes can fail quality-level, performance issues, and are less supportive.
Such themes are mainstream which means that almost every other start-up is using them. There is no unique factor in the design.
Premium WordPress Themes
Premium themes are superior in quality, highly personalized, and comes with full support.
You'll be paying and getting your money's worth, but as you heard, the design and the features will outperform the free versions.
If you go with the premium theme choice, there are not one but several advantages that you can avail.
Frequent Updates
Extensive Support
Fully Customized
Responsive Themes
Unique Designs
Improved Response from the Audience
The premium theme does have some cons, but you will rarely encounter them. Honestly, these are not flaws but the requirements that come together.
The theme will cost you money because the quality is not compromised in the design.
As there are loads of features hence it can slightly affect the performance of your overall site
Free vs. Premium: What Do You Choose?
Do you want your website to look professional? You must pick the theme that looks great. You should ensure if the theme perfectly matches your niche.
Go for a free theme if:
It's a personal blog
You don't care for a personalized website
You are good with basic features
You can take care of the technical support on your own
Go for the premium theme if:
Your website is already running on the web
You probably need the touch e-commerce market in the forthcoming
Personalization is important
You need advanced features
You need extensive support
WordPress Free Vs Paid Plugins
Free WordPress Plugins
Free plugins are made available on the web for free. Just like free WordPress themes, these are developed by independent developers, and the features are limited.
Not only there are limited features, but the support is also not immensely taken care of.
Sometimes, it becomes necessary for you to buy the premium plugin version because of the limited functionalities.
So, it is suggested to not opt-in for this option. Unless you want for personal use only.
In WordPress free vs paid plugins, let's talk about the pros and cons:
| Pros | Cons |
| --- | --- |
| Free to Use | No upgradation or offers are available. |
| Does not affect the performance of your site as the feature list is limited. | Lack of Features |
| Easy to switch to the new one. | Compatibility Issues |
| | No Updates |
| | No New Features |
| | Poor Customization |
Premium WordPress Plugins
Do you want your websites to stand out in the market? Do you want to stay ahead of the game and serve better to your customers?
Then, you only need premium plugins. But bear in mind, you will have to pay something in advance.
If you take a look in the market, almost every reputable company is using premium plugins only. You will hardly find an enterprise-level web company using a free plugin.
In WordPress free vs paid plugins, let's talk about the pros and cons:
| Pros | Cons |
| --- | --- |
| Extensive Support | It can slow down the speed, but not very often. |
| Regular Updates | Sometimes the features can be difficult to utilize. |
| Advanced Features | |
| Highly Customized | |
| Very Much Flexible | |
| The Control is in your hands. | |
Free vs. Premium: What Do You Choose?
In this talk about WordPress free vs paid plugins, the choice solely depends upon the use case.
Go for a free plugin if:
You don't care much about features
You don't care much about support
Compatibility, stability, and further support doesn't bother you
Go for a premium plugin if:
Your website constantly need features
Long-term support is required
Frequent updates are a requirement
Compatibility and stability is the key
What Did You Learn?
As you already witnessed the comparison between free vs. premium; you learned about WordPress free vs paid themes and WordPress free vs paid plugins.
There's a piece of additional advice for you.
If your business does not have significant expenses, and you are not willing to customize even an inch, then it's not a good idea to spend money to buy premium plugins or themes.
You simply go for the free versions.
However, if the above are requirements, and you in the near future wish to switch to an online store, then we highly recommend you to purchase a premium version.
For Your Help!
You know you can always have a website designed as per your requirements. And If you want to add functionality to your theme, you can install a plugin.
PressTigers provides custom solutions beyond your expectations. You will get advanced features, 24/7 technical support, and a lot more that will permit you to get full control over your website.
We understand that not everyone is that tech-savvy, so you can hand over your technical problems to us.
We request you to take a look at the list of plugins we offer for your ease.