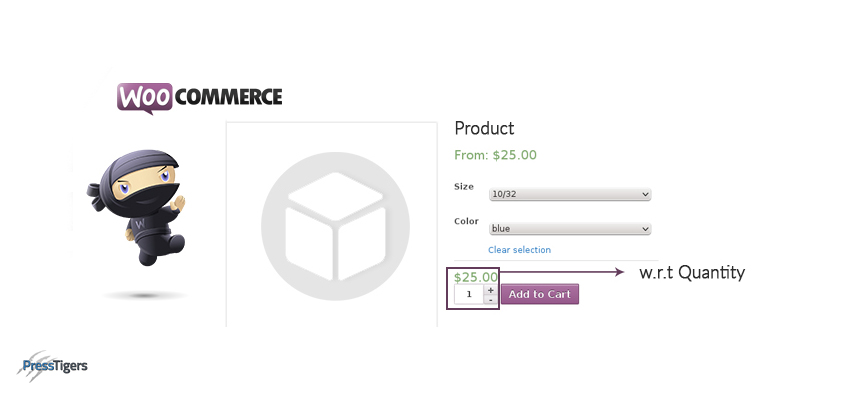 PressTigers
How to show Total Product Price w.r.t Quantity in WooCommerce
WooCommerce (the best shopping cart plugin) gives store owners a complete control of all the customizable features to add strength to their online product stores/business. In products detail page, a user may require to show total price of the product on detail page when he/she orders a product with more than 1 quantity.
For instance, if you want to buy 2 watches for $100 each then the total cost will be $200. Similarly if you change the quantity of the product more than 2, then it will show the total cost according to the selected quantity of the product.
To achieve this functionality, use the Hook of WooCommerce "woocommerce_single_product_summary". You can see this hook in content-single-product.php template file. Many functions bind with this hook and it is called on product detail page.
When a function is added in this hook , a priority has been assigned to that function. Function with a high priority will call first. For adding the functionality, add this particular function after "woocommerce_template_single_add_to_cart" which has a hook priority of 30 and the function will be called after this.
Paste the following code in functions.php file of your Theme or Child Theme:
1

2

3

4

5

6

7

8

9

10

11

12

13

14

15

16

17

18

19

20

21

22

23

24

25

26

27

28

29

30

31

32

33

// We Hook this on the priority after 30 , for example on 35

add_action

(

'woocommerce_single_product_summary'

,

'pt_woocommerce_product_total_price'

,

35

)

;

function

pt_woocommerce_product_total_price

(

)

{

global

$woocommerce

,

$product

;

// Setup our Html to show the totoal price

echo

sprintf

(

'<div id="pt-product-total-price" style="margin-bottom:20px;display:none">%s %s</div>'

,

__

(

'Product Total:'

,

'woocommerce'

)

,

'<span class="price">'

.

$product

-

>

get_price

(

)

.

'</span>'

)

;

echo

sprintf

(

'<div id="pt-cart-total-price" style="margin-bottom:20px;display:none">%s %s</div>'

,

__

(

'Cart Total:'

,

'woocommerce'

)

,

'<span class="price">'

.

$product

-

>

get_price

(

)

.

'</span>'

)

;

var

product_price

=

<

?

php

echo

$

product

-

>

get_price

(

)

;

?

>

,

current_cart_total

=

<

?

php

echo

$

woocommerce

-

>

cart

-

>

cart_contents_total

;

?

>

,

currency

=

'<?php echo get_woocommerce_currency_symbol(); ?>'

;

$

(

'[name=quantity]'

)

.

change

(

function

(

)

{

var

product_total

=

parseFloat

(

product_price

*

this

.

value

)

,

cart_total

=

parseFloat

(

product_total

+

current_cart_total

)

;

$

(

'#pt-product-total-price .price'

)

.

html

(

currency

+

product_total

.

toFixed

(

2

)

)

;

$

(

'#pt-cart-total-price .price'

)

.

html

(

currency

+

cart_total

.

toFixed

(

2

)

)

;

$

(

'#pt-product-total-price,#pt-cart-total-price'

)

.

toggle

(

!

(

this

.

value

<

=

1

)

)

;