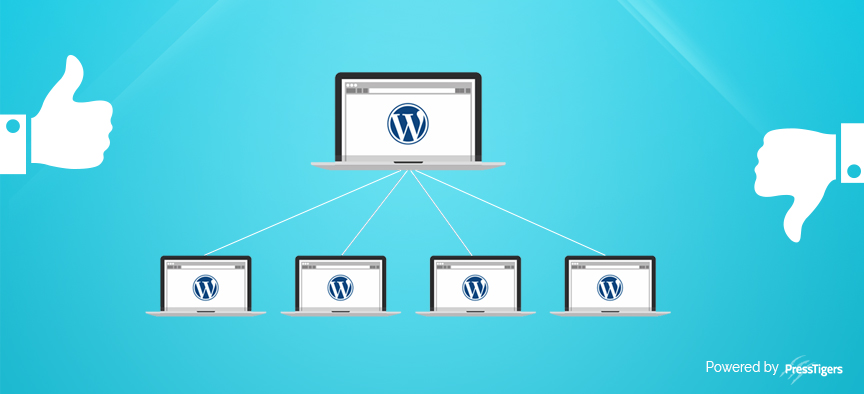 PressTigers
Pros and Cons of WordPress Multisite
Multisite is one of the most misunderstood features of WordPress but it helps you manage multiple sites under one roof. It is beneficial in some scenarios but at times it can cause an overhead (such as Administrative Complexity) which is distinguishable at a later stage (when the damage has been occurred). It is really important to know the purpose of multisite and which problems it resolves.
With just a single WP installation, multisite feature lets you manage multiple sites. It means that this feature allows you to run a network of sites using a single WordPress Dashboard where you can manage everything – from themes to plugins, users, content, features, etc.
Multisite feature was actually designed to allow bloggers manage their multiple blogs using a single WP install. It was launched in WordPress 3.0 release.
It is recommended to use multisite feature if you are going to develop a content network and wants to manage it from a central location. You may use it to allow multiple bloggers manage their blogs and keep them connected to your network – wordpress.com is one of the biggest example of this scenario. Multisites are best applicable in:
Schools and Universities – A single platform can be provided to departments to manage their information. It can also allow Teachers and Professors to manage their internal blogs.
Franchises – The company can provide a single platform to give its franchises freedom to add their content and stay connected with their main network.
Real estate – The company can allow its agents to setup their own sites so that they can list and display their properties.
Not limited to the above mentioned scenarios, multisite can be used in other scenarios as well.
The following are the scenarios where there is no need to use multisite:
If you need convenience to update all your site's themes, plugins and core WP version from a single dashboard, a lot of plugins can manage this stuff for you.
If you are planning to make your whole website look same.
If you want to share same content among all your sites, you can use WordPress REST API.
If you want to restrict the content and other functionalities for certain users, you can assign different user roles in order to restrict them to use certain URLs only.