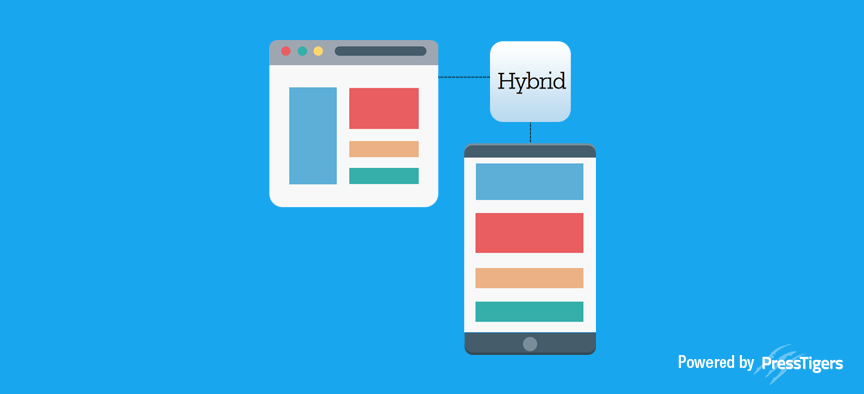 PressTigers
Significance of WordPress Hybrid Mobile App
Hybrid Apps for mobile are the same apps that you see on your smart phone or smart devices. These apps can be found on different app stores. You can create any type of hybrid app ranges from a simple text app to game or social media.
So, what is the best thing about the mobile hybrid app? Well, the hybrid apps are built with the same web technologies like HTML, CSS or JavaScript. The difference here between the hybrid app and native app is that the hybrid app is executed inside the native app that utilize the WebView of native device. More information about the WebView can be found here.
With the use of WebView, you can also access the native app modules like camera, contact, location and more. Hybrid mobile apps are installed in your devices so that you can play games, engage your friends through social media, take photos, track your health, and much more.
So, the question is what it has to do with WordPress?
You can access any WordPress website from any browser on your desktop. But what if you can access any WordPress website directly from your mobile app with just one click? Isn't that awesome?
In the recent past years, the online users are shifting from desktop to mobile. In 2016, the Mobile web usage exceeds the use of desktop (check here).
The stat counter did a research on internet usage of websites across 2.5m, and tracks that more than 51% pages were accessed from the mobile devices.
So if you want your system to grow then you must focus on the mobile app of your site. Because in the near future, more than half of the users may want to access your website from an App or from their mobile devices.
Its not so difficult these days to create an app for WordPress. You can use any app builder for WordPress or Ionic/Cordova combination. If you are a technical person then you must go for Ionic because the advantage of using Ionic is that, you can code one using HTML5 and achieve the look and feel of Android, iPhone and Windows platform native style. With WordPress API, you can generate calls from your hybrid mobile app using Ionic WP-API plugin and can access any type of content such as:
Users
Posts
Categories
Custom Post Types
Products, etc.
Let's suppose that you are running an e-Commerce or a social site using WordPress platform. You can take the advantage of using WordPress API and create a native style hybrid app for more than one devices.
In the recent years, more than 50% of the users access product or buy products from their mobile devices. So, its a great opportunity to have an Hybrid app for your WordPress website because you don't have to manage anything from your App. You will manage your website through WordPress Dashboard. You just gave more access to your website to the users.
WordPress hybrid mobile app has a great significance these days and even in the near future for your business and for your users.