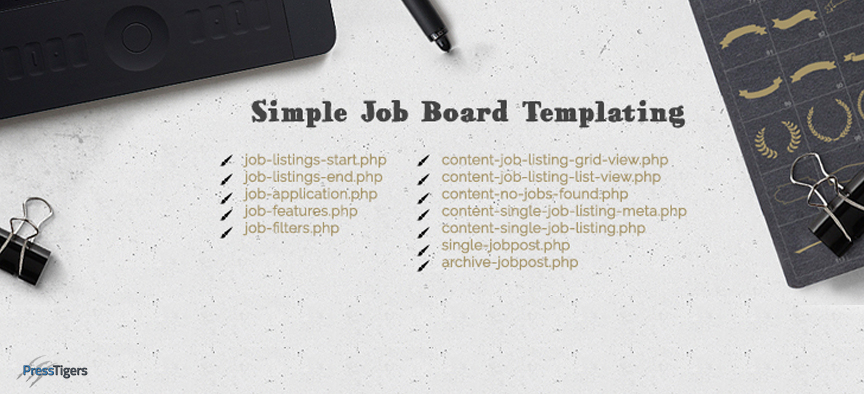 PressTigers
Simple Job Board Templating
Do you want to change the structure of your Simple Job Board without any change in the core plugin?
Sounds good. Now, you can change the structure of your default job listing and job details page. Templating has been introduced in Simple Job Board since version 2.1.0.
With this new exciting feature, you can change the HTML structure of following files:
job-listings-start.php
job-listings-end.php
job-application.php
job-features.php
job-filters.php
content-job-listing-grid-view.php
content-job-listing-list-view.php
content-no-jobs-found.php
content-single-job-listing-meta.php
content-single-job-listing.php
single-jobpost.php
archive-jobpost.php
If you want to modify the layout of job detail and job listing pages, add "simple_job_board" folder at default theme root directory.
Now simply copy the above mentioned file from plugin simple-job-board > templates folder > simple_job_board and modify the HTML structure. Changes will be reflected on your website.
Enjoy your work with WordPress Job Board templating feature.