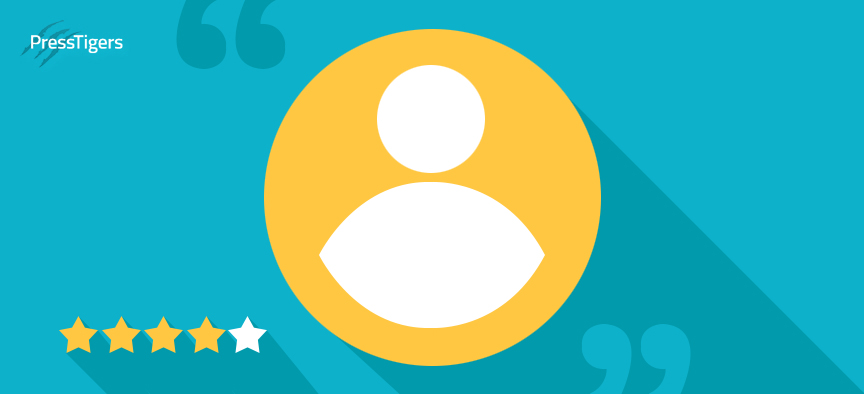 PressTigers
Simple Testimonials Showcase by PressTigers
Simple Testimonials Showcase is a plugin exclusively developed by PressTigers keeping one thing into consideration. That is to make the entire process of putting up your testimonials on your WordPress websites as easy as possible.

There are plenty of testimonial plugins out there but the fact is that none of them offer what Simple Testimonials Showcase proffer.
Who Needs the Simple Testimonials Showcase?
The Simple Testimonials Showcase by PressTigers is a calling for all entrepreneurs, freelancers, SMEs and anyone with a WordPress website. If you want to showcase your portfolio in any category in the most diverse and elegant ways then this plugin is what your WordPress website needs. It's a mighty plugin and can totally change the way your website appears.
The plugin has a plethora of features all of equal importance which are discussed below: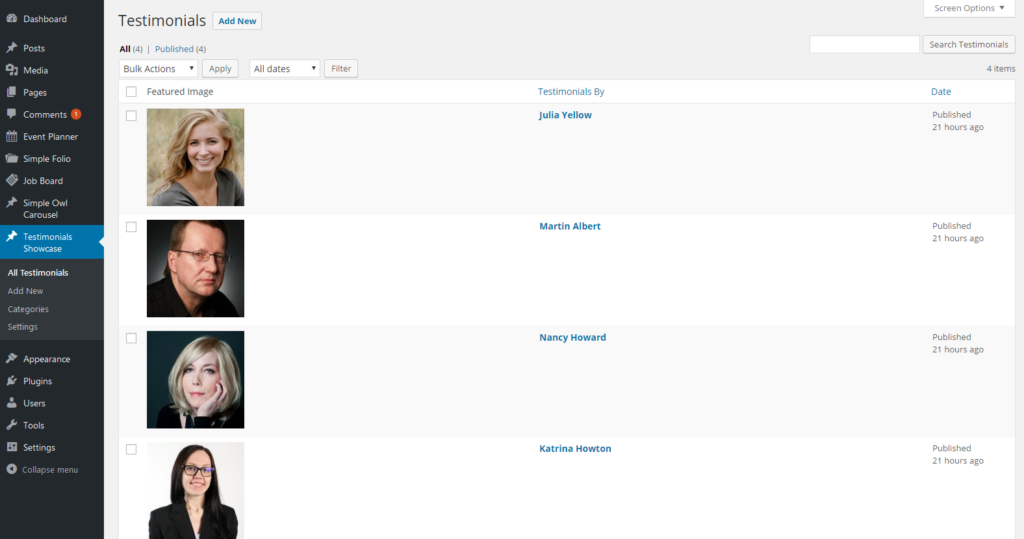 Fully Responsive & Compatibility
The Simple Testimonials Showcase is fully responsive and will never slow down your website. It can be relied upon easily as it is based on a flexible jQuery carousel plugin which is responsive to begin with.
Rest assured, your website will not have performance issues and users will be able to navigate throughout your testimonials with ease.
Layout Options
The Simple Testimonials Showcase comes with two layout options, grid and the slider. The grid option allows you to showcase your testimonials in the form of a grid which is static. This can be particularly useful when you want your users to have a wide range of options.
By clicking a testimonial image it can open in another tab as well. The grid option is a great way to showcase diversity in your portfolio. The second option is the slider, which allows a user to slide over the next testimonial. A user can click on one slide and move onto the next one.
Adding Details
Testimonials represent your company's skill. So, with this plugin, you get the option to add details for each testimonial in the form of author's name, description, role and even organizations.
The ability to add details to a portfolio item is an incredible feature because it can blend perfectly in your testimonial.

Customer Support
Simple Testimonials Showcase offers great customer support. We at PressTigers stay available 24/7 for you to connect with us anytime, if you run into a problem.
How to Use Simple Testimonials Showcase
From installing to configuring the plugin, the entire process is simple and easy. Just follow these steps:
Go to this link and download the plugin. Or you can go to the 'add new' option from your WordPress account and download.
Once downloaded, install the plugin.
Once installed you will be redirected to a new testimonial page where you can easily add details. All the input fields would be given and all you have to do is to upload your testimonial.
Once testimonials are created, you will be redirected to the testimonial listing page where you can edit, view or delete the testimonial.
Now you need to add testimonials to your website. Go to the Shortcode generator in the page or post of visual tab editor. Once a shortcode is generated, you can add the shortcode on pages or posts as you deem.
In a Nutshell
Simple Testimonials Showcase is one of those plugins that can change the course of your website. It offers a bundle of features within testimonial showcasing, which can revamp your website.
Remember, one of the ways to sell your products is to showcase them with brilliance and a Simple Testimonials Showcase allows you to do that in perfection!