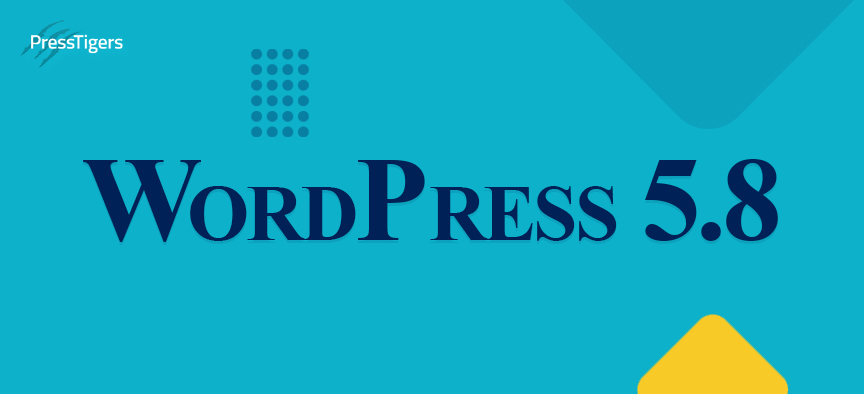 PressTigers
News: Building WordPress themes entirely out of blocks in 5.8
The wait is finally over! The new WordPress 5.8 features are here!
It is a new era for WordPress theme development. Hence, this week's edition is all about WordPress 5.8 features.
Are you a WordPress fan like us? We have been working in this domain for many years. PressTigers is our unique platform where our engineers provide full-time WP services. You can check out the website for further clarity.
We once predicted the future of full-site editing in one of our blogs. A complete introduction of full-site editing was given, along with WordPress 5.7's core concepts. When we talked about it we were so confident that 2021 was going to be the year for full-site editing, and we presume were not wrong at all.
This new release has proved us right. 2021 has literally become the year for full-site editing!
We Are Talking About Some Big Changes Here!
There is no denying that for us this has to be one of the considerable WordPress updates since the blog editor was introduced a few years ago, it's not as big as that. But, since then, it's perhaps one of the notable revisions in WordPress, it's mandatory to talk about it.
It's actually the second major release of WordPress in 2021.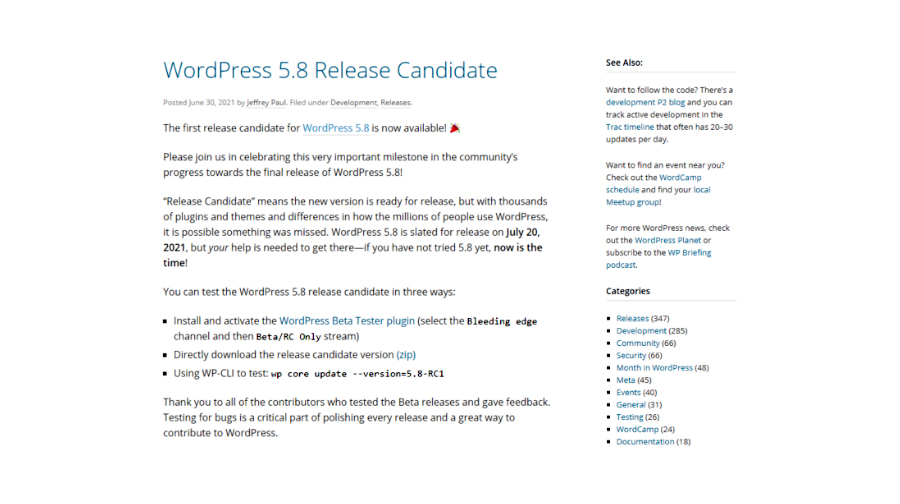 As per this post, July 20th, 2021 is the expected date for the release of WordPress 5.8 features. The post says that if you want to test this release, you can do it in three ways:
Install and activate the WordPress Beta Tester plugin (select the Bleeding edge channel and then Beta/RC Only stream)
Directly download the release candidate version (zip)
Using WP-CLI to test: wp core update –version=5.8-RC1
We didn't want to confuse you at all, so we have listed the extract instructions here that are shared by https://wordpress.org/news/.
We have been crazy over WordPress ever since we started working on it. We religiously follow each update and news to stay current. Whenever we develop anything, we keep up on new features to launch something that is best for the market.
So stay tuned because our research is going to tell you what's coming in the world of WordPress theme development by using WordPress 5.8 features.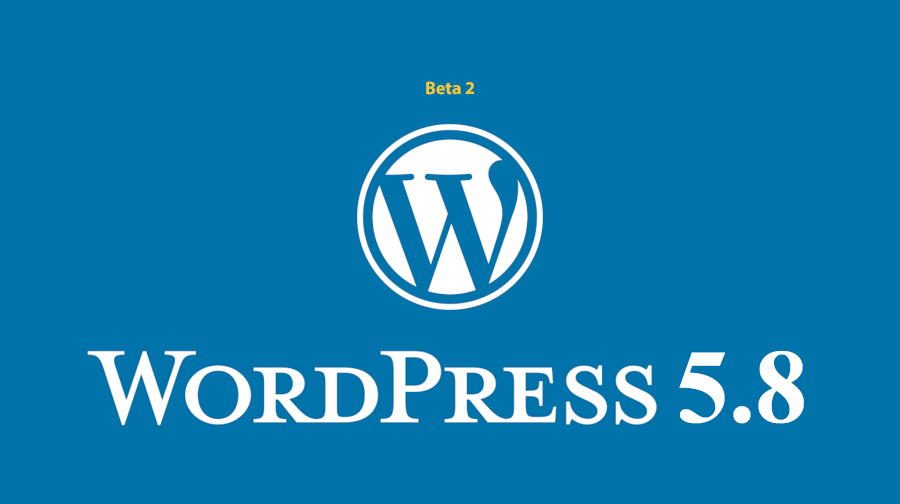 WordPress 5.8 Features: Time To Reveal the Best Deal
Are you ready to get your first taste of WordPress 5.8 features? Let's do this!
1- Full-Site Editing
What is full-site editing exactly?
WordPress full-side editing is phase 2 of the Gutenberg project and as per the WP team, you need to keep into consideration three core areas when talking about full-site editing. Those areas are:Template Manipulation: to make changes in the theme using blocks only, instead of a codebase.
Template Manipulation: to make changes in the theme using blocks only, instead of a codebase.
Block Patterns: to use various pre-made patterns to create and modify layouts.
Global Styles: to give a higher level of customization and improved control over aesthetics.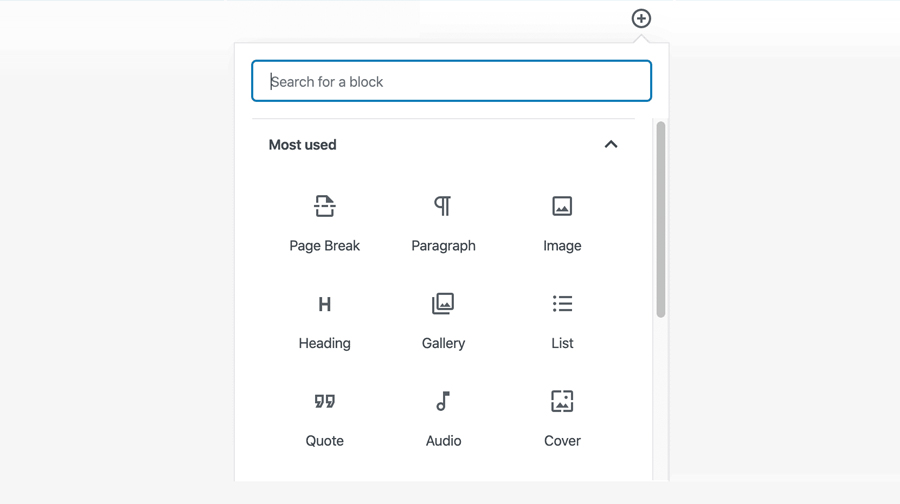 So, the full-site editing WordPress 5.8 features that are anticipated in WordPress theme development are:
Upgrades from Gutenberg 9.9+
The latest theme-related block, for instance, site logo, query, navigation, etc
Theme.json integration that permits themes to define block defaults and settings
Template-editing mode for the block editor
Block-based customized integration and widgets screen
Latest block design tools, for example, duotone, controls, layout, madding, and considerably more
2- Patterns Directory
Assembling, arranging, and handling patterns have become significant. So, the WordPress patterns directory is an open catalog of patterns that anyone can use or copy. Not only this, but the members of the WP family also submit patterns in this gallery from time to time.
The patterns directory can be accessed from within the WP block editor as well for you to insert and browse patterns with ease to your posts and pages.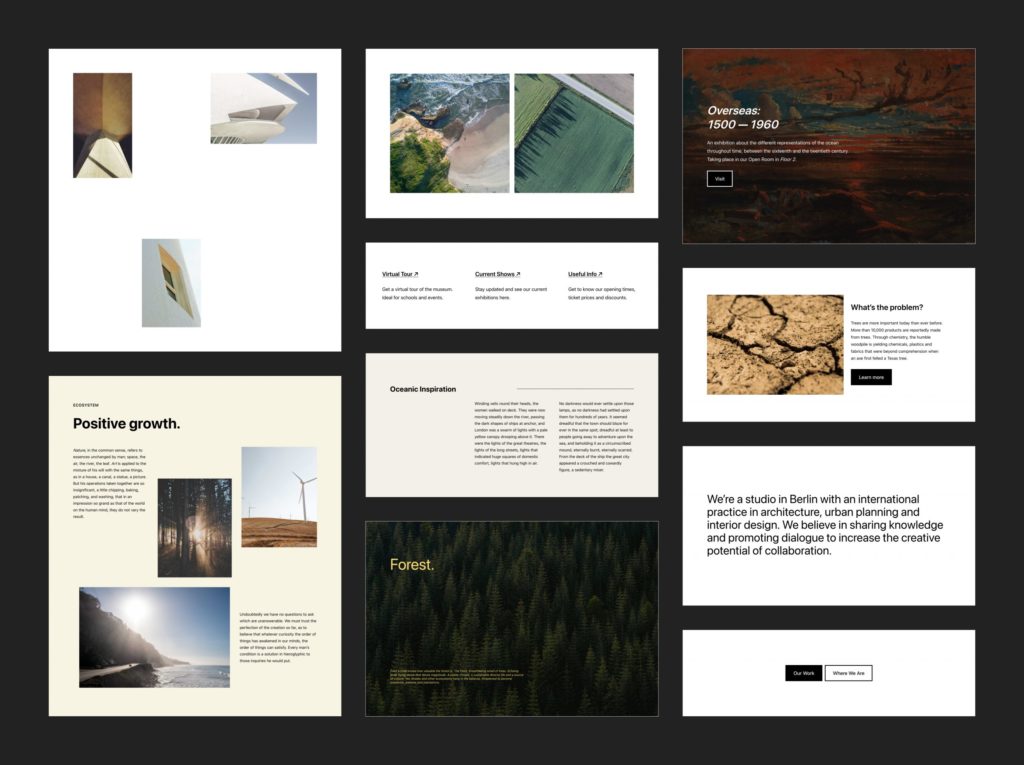 Take a look at how the grid looks like: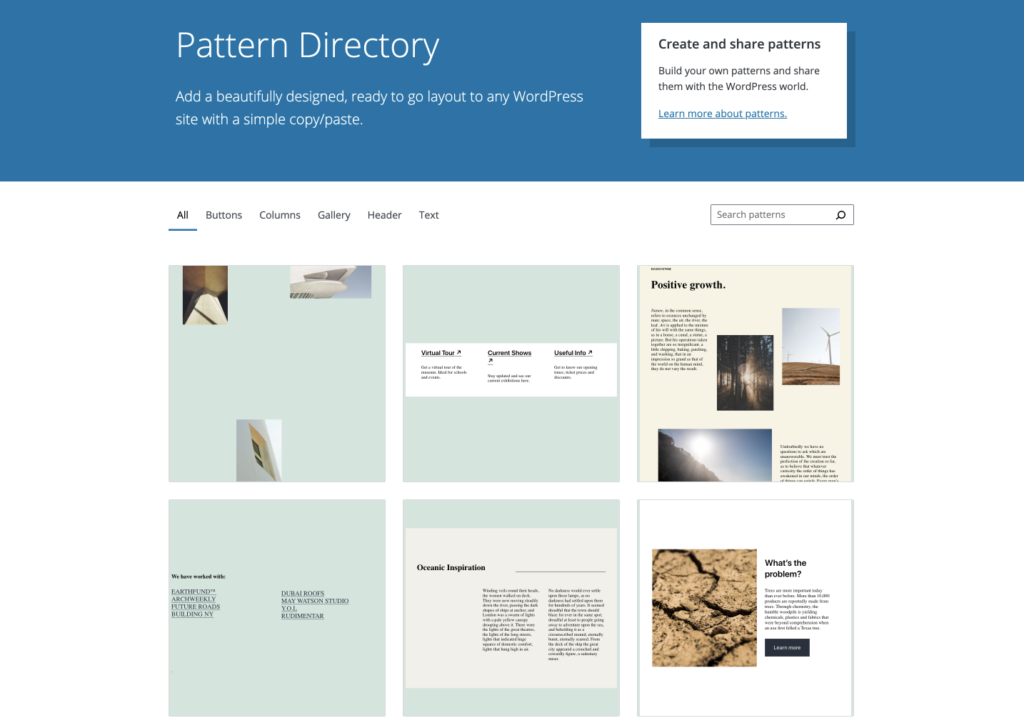 So, the patterns directory being one of the WordPress 5.8 features has the following objects set:
The pattern directly is made publicly available
A live pattern preview option is now given
WP.org individuals can design, share patterns, also view & control their block patterns
You can pick patterns from a gallery, similar to what is shown above but not from uploaded media
Your submitted block patterns will be reviewed, verified, and will automatically get moderated if the need be
The block editor can find and fetch patterns from the catalog
So, What's Next?
While we were exploring WordPress theme development using WordPress 5.8, we came to know that WP will end its support for Internet Explorer for good. What are your views on this?
Also, do you find these WordPress 5.8 features to be cool? There are many other changes that are left to be discussed in this news guide. So, we are thinking to upload another series for you in which we sort of show a complete tutorial of features. How do you suggest?