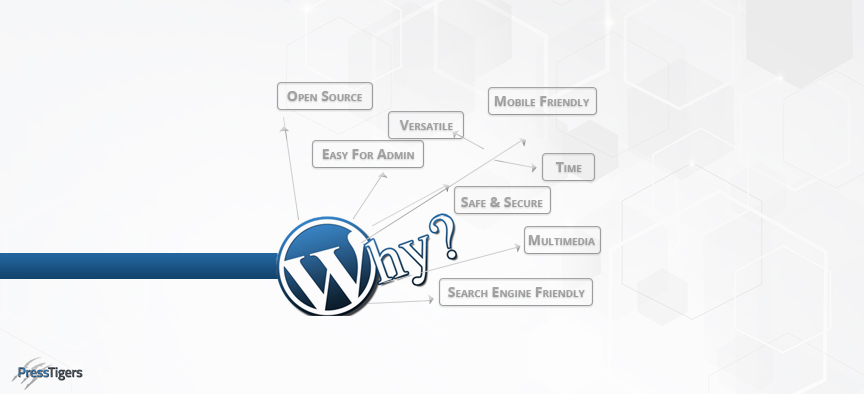 PressTigers
Why You Should Choose WordPress?
WordPress is one of the best Content Management System based on PHP and MySQL. Many people now use WordPress for personal blogs and business websites due to its flexible database and rich functionalities. But here the question arises, Why to choose WordPress? Following are the major reasons that will elaborate the answer of this particular question:
1. Open Source:
WordPress is 100% free. Yup, you heard me right it is free to use. Whether you are a blogger or just trying to launch a new website for your business, you can get it started for free. Thousands of developers from around the globe have contributed to WordPress community which takes its functionality and flexibility to a high level.
2. Easy For Admin:
WordPress has extremely user friendly and easy-to-use back-end interface which allows the owner or admin of the site to make the changes in their content once the site is deployed. It means that you can do a lot of changes by yourself, you don't need to hire a developer for every minor change.
3. Versatile:
No matter whether you want a personal blog, a business site, an e-commerce solution or site for a special occasion, WordPress can take care of requirements with ease and grace. Its flexibility is one of its many features that can not be topped.
4. Search Engine Friendly:
The best place to hide a body is second page of Google search results, sites don't belong there. WordPress knows that pretty well and that is why it takes care of this dire need of your websites. Popular search engines actually prefer sites that are made using WordPress because its framework is easy to crawl for their bots. So, WordPress will take your site where it belongs.
5. Safe & Secure:
Since WordPress is the most popular CMS so it shouldn't be surprising that it is the target of hackers and WordPress is well aware of this fact. WordPress has done quite a lot of work to improve its security measures in past few years. It constantly updates its software to prevent hackers attacks. Version 3.7 of WordPress ran through the hackers community like an undercooked pork through a retirement home full of delicately stomached old-aged pensioners. Ever since this release, it has an automatic update feature to make your website more secure.
6. Mobile Friendly:
Ever-changing technology has always been a big concern for clients. It is more important than ever for a site to be small machines and mobile friendly without wrecking its layout. Thanks to WordPress, while developing a site with it you don't have to be concerned over that. Majority of its designs are already mobile and tablets friendly, so you can concentrate on the actual functionality.
7. Multimedia:
WordPress allows you to upload and manage images, videos or audio easily. It is a great addition which enhances the experience of your site's visitors. It is not only easy for you to upload multimedia files, but also you can edit them via WordPress media library and use them in your posts or pages with just after a couple of clicks.
8. Time:
Using some other technology might cost you a fortune to develop a simple site, plus it will surely take a lot of time. On the other hand, with so many features and support provided by WordPress by default, it will give developer a hand, saving you a lot of time and money while not compromising on speed, efficiency and security.