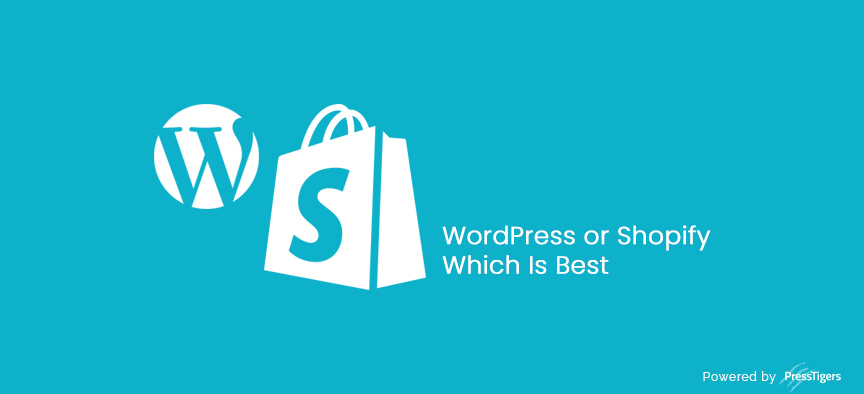 PressTigers
WordPress or Shopify? Which Is the Best
As the world is continuously getting the benefits of online shopping, eCommerce businesses have become one of the most popular businesses and are preferred widely by many small creative entrepreneurs. The eCommerce businesses should expect a 265% growth rate, from $1.3 trillion in 2014 to $4.9 trillion in 2021.
The statistics show the popularity of eCommerce businesses and reflect a steady upward trend. Shopify and WordPress are two of the best CMS, with a reputation of user friendly, flexibility, and great performance.
Brief Overview of Shopify and WordPress
Shopify is a dedicated eCommerce platform that helps you build your online store and was designed specifically to help merchants design and build reliable online stores without getting worried about buying web hosting, as Shopify is a hosted eCommerce solution.
Similarly, WordPress is an open source platform that needs to be hosted on any web hosting but WordPress.com also provides web hosting solutions with certain limitations. To get eCommerce features there are different plugins available but one of the most popular and widely used plugins is WooCommerce which provides eCommerce features within the WordPress website. WordPress has greatly improved as a CMS in the last several years and is now evolving as an application framework for building different types of web applications.
Pricing of Shopify and WordPress
WordPress is an open-source platform that needs to be hosted on any web hosting server. The cost of web hosting starts at $2.95 – $34.95/month and the average cost of a domain is between $10 and $20. Shopify has a 3 tier pricing plan. The pricing plan starts with Basic Shopify (All the basics for starting a new business) plan with a cost of $29 per month.
Shopify has everything you need for a growing business plan under its umbrella and it starts with a cost of $79 per month and Advanced Shopify (Advanced features for scaling your business) plan starts with a cost of $299 per month.
Shopify Apps Vs WordPress Plugins
WordPress has a large repository of plugins that are developed by the WordPress community. All plugins are available on the WordPress plugins directory. WordPress plugins are generally more customizable and extendable due to their flexibility. Plugins provide action hooks and filters that can be used for customizing the plugins default features without altering the plugin files directly.
Shopify apps on the other hand are mostly paid apps with a monthly subscription. They do not provide that much flexibility in tweaking or customizing apps built-in features functionality. The access to Shopify apps code is restricted due to copyrights and hence has limitations.
Shopify Market Share Vs WordPress Market Share
WordPress's market share is continuously increasing which shows the CMS popularity and future trend. WordPress powers 35.8% of all websites on the internet in 2020 which is 10% more than in 2016 when they powered only 25% of websites.
There are 27 million live websites powered by WordPress and has a high CMS market share of 54%. On the other hand, Shopify has a relatively low market share of 5.35%. There are more than 1 million live websites powered by Shopify with a CMS market share of 1%.
Every Content Management System has its advantages and disadvantages. It mostly depends upon the users on which platform they prefer when building a website for their business.
WordPress is comparatively a better established, flexible, and extensible platform as compare to Shopify with a higher market share which shows an upward trend and will be unlikely to decline in the future.
If you are looking for professional and personalized assistance in any of these eCommerce platforms, please feel free to get connected with PressTigers experts.
Written By: Hijab e Fatima