PressTigers
WordPress Speed Optimization Services: Tips, Key Services & Plugins
Are you planning to speed up your WordPress website? Is WordPress speed optimization your concern? Are you finding a reliable way to gain more traffic, followers, subscribers, and revenue from your website? Make your WordPress website FASTER if you want to achieve this.
WordPress speed optimization is an adequate solution that makes things convenient for you. There are a variety of WordPress speed optimization services available that can assist you with maintaining the speed and performance of your WordPress website. But, where to get the best service from?
WordPress speed optimization can resolve the following problems:
Fix core web issues
Score higher in Google Page speed insights
Troubleshoot slow backend issues
Optimize woocommerce checkout speed through plugin
Agencies that Provide WordPress Speed Optimization Services
You are going to know about the three best WordPress speed optimization service providers that can well-improve your site's functionality and performance.
Let's get to know them!
FixRunner
Are you facing WordPress speed optimization problems? Do you want to maintain your sites' speed? FixRunner is a professional platform that optimizes your website for SEO and allows it to rank and run faster. If you have ever struggled with a slow website, you can well understand the value of speed. Thus, try not to compromise on it.
It provides the following key features:
eCommerce optimization
CDN support
Image optimization
Inspection of plugins
Database optimization
24/7 technical support
Browser caching
HTML, JavaScript, CSS minifying
Fixmysite
If you plan to make your WordPress website sharp and efficient, try Fixmysite for speed optimization. You can fix your website with their on-demand website support that starts from $39. It leverages your browser coaching and resolves CSS/HTML/JavaScript and lazy load images.
It provides the following key features:
Compressing images
CSS, JavaScript and HTML minifying
WordPress migration service
Refund policy
Slow loading image
Database optimization
PressTigers
Are you having difficulty in theme design, print media, slow speed, and custom coding of your WordPress website? PressTigers is a professional platform that creates the most optimized WordPress templates and plugins to maintain your website's speed and user-friendliness.
Our developers eradicate the hindering speed problem of your WordPress website with the best in-house plugins and themes. If you are concerned about achieving robust speed for your WordPress website, consult with our professionals right away.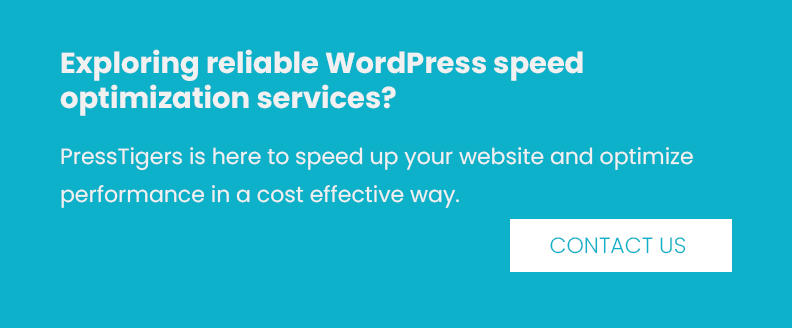 PressTigers provides diverse services like themes and templates, designs mobile apps, and deals with eCommerce, plugin installation, website maintenance, etc. Our professional WordPress developers manage to select the best fonts, perform image optimization, and opt for the best WordPress plugins for your website, etc.
We at PressTigers consult you to properly understand your website and optimize it according to your standards.
What Slows Down Your WordPress Websites?
Are you looking for WordPress speed optimization services? Fast page load, great user experience, more page views, is this all you want?
You only get 2 minutes to convince your readers to stay on your website. Ensure to utilize that time artfully!
Before you fix your website's load time, get to know what really makes them slow.
Following are the few main causes that slow down your WordPress website:
1- Web Hosting
Improper configuration and poor web hosting are what cause websites to load slowly. Thus try not to rely on poor hosting plans.
2- Page Size
Many images are not properly optimized for the web and later cause slow-loading problems. Ensure to optimize them by using an ideal format, size, and resolution to raise user engagement.
3- Non-optimized Images
Non-optimized images are another culprit for slowing down your WordPress websites. Still, WordPress manages to have tons of plugins to embed the image with an appropriate dimension and aspect ratio.
4- WordPress configuration
It is essential to serve the cached pages of your WordPress website; otherwise, it burdens your server to crash fully.
5- External scripts
External scripts involve font loaders, ads, and a few other things that entirely affect your website's performance.
6- Odd plugins
Try not to use expired or odd plugins because they can automatically slow down your website.
Now, you know the reasons why the performance of your WordPress website gets slow and doesn't allow users to use it smoothly. It's time you know some tips and tricks that can help you solve your WordPress speed optimization concerns.
Let's crush this!
Tips and Best practices
1. Update your WordPress website timely
Updating your WordPress frequently is a good practice because each update offers new features. It keeps your website maintained by fixing bugs and improving security issues.
So timely update your WordPress plugins and themes.

If you want to know some security tips for your WordPress website, we suggest you click the link below.
5 WordPress security tips to protect your website.
2. Utilize excerpts on the homepage
Excerpts are requisite for your WordPress posts. They're short snippets from your posts that you can display on your homepage or somewhere else. The more polished the excerpt, the faster your site can load.
Moreover, excerpts improve the overall SEO of your site too. You adapt this practice to entice the reader to view your complete article.
The below-mentioned picture tells how to set it up.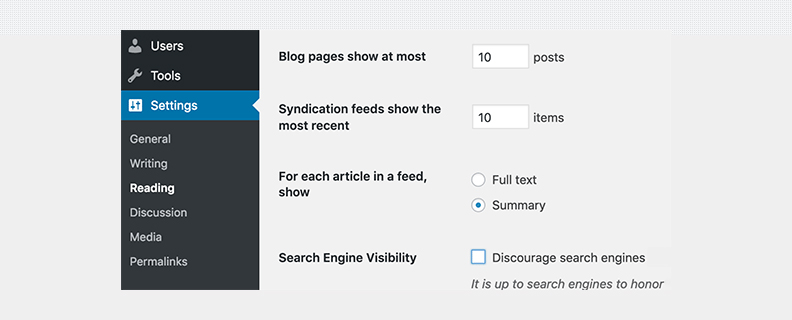 3. Optimize your website background processes
Few scheduled tasks run in the background of your WordPress site that needs to be optimized. A few of them are as follows:
WordPress backup plugin tasks
WordPress cron jobs to analyze updates
WordPress cron jobs to publish scheduled posts
Excessive crawling and backup plugins are a part of background processes that can slow down your website. It is beneficial to run WordPress backup plugins during low traffic time.
4. Increase your website speed with plugins
Relying on WordPress plugins can easily save the cost of your WordPress speed optimization services because it will fix your website speed automatically.
Below are the top 2 WordPress plugins with their key features:
1. WP Rocket
WP Rocket is the best performance plugin in the market, and it takes care of everything that relates to the speed of your website. Activating this plugin will benefit you with page caching, image optimization, code minifying & combining, etc.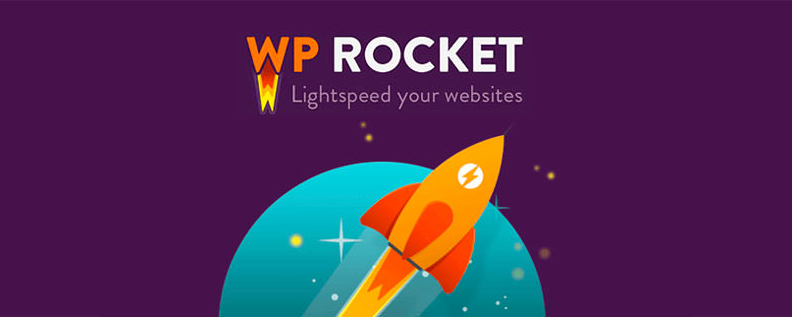 Below are its key features:
Cache preloading
Browser Caching
Page Caching
Database Optimization
Quick Setup
GZIP Compression
2. WP-Optimize
WP-Optimize keeps your database clean and runs without any error. It does it in three ingenious ways:
Cleans and optimizes your database
Compresses your media
Cache your pages for faster loading speed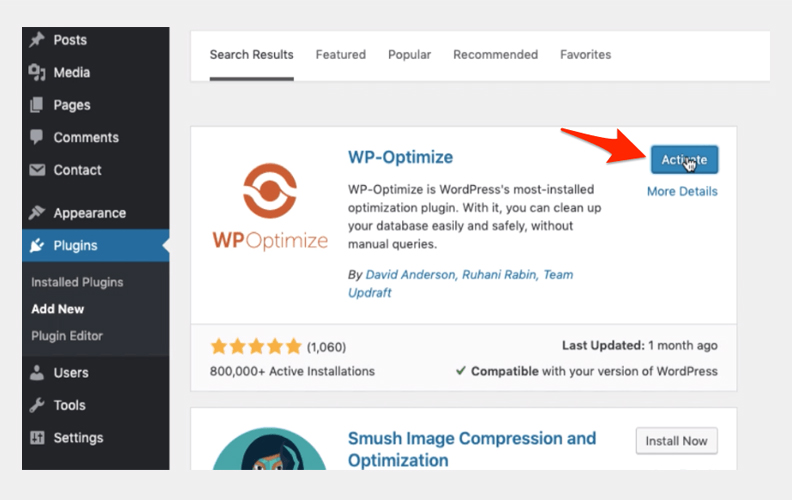 Below are its key features:
Comprehensive control of optimizations
Remove the unnecessary data
Automatic clean-up scheduling option
Insight statistics and potential savings
Compacts database tables
Pro Tip:
WordPress is written in PHP, so get the latest PHP version before you do any of the things recommended above. To tell you, all good hosting companies use the latest PHP versions. You can't fix WordPress speed optimization problems if you are still stuck with the older versions.
That's about it!