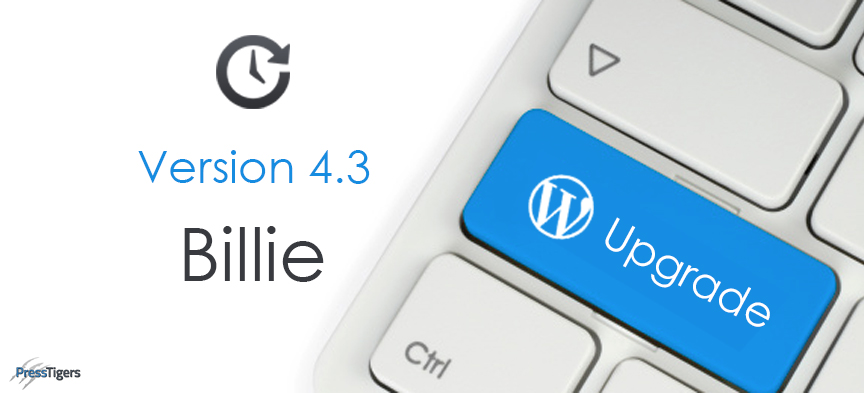 PressTigers
WordPress Version 4.3 (Billie) Upgrade
WordPress 4.3 has been released on August 18th, 2015 which is a second major release of this year. It is named as "Billie" after a jazz singer "Billie Holiday". WordPress blog states the following about this upgrade for administrators / users:
"makes it even easier to format your content and customize your site".
Enhancements In Version 4.3
1- Menus In Customizer:
Widgets were already added to customizer in WordPress 3.9, but now in this 4.3 upgrade, 'Menus' are also added so that you can edit your website navigation by simply going to Appearance > Customizer and then click on the menus tab.
The major idea behind this feature is to provide live preview in real time that how your menu is going to appear on your website as well as on mobile resolution; as WordPress is now providing mobile-friendly interface in customizer.
2- Formatting Shortcuts:
A cool new feature is added to WordPress (WYSIWYG) editor, you can format your content like lists, heading and quotes with shortcuts:
You can format lists by just typing "*" or "–" while starting unordered (bulleted) lists
Numbers followed by "." Or ")" like "1." or "1)" will create ordered lists
To add headings by typing "#" for Heading 1, "##" for Heading 2 and so on
You can add ">" just to start a quote (also known as "Blockquote").
3- Site Icons:
Another awesome feature WordPress Customizer providing is you can now add site icons through it. It will automatically generate the favicon for browser and bookmark icons for mobile home screens. This will remain intact throughout the site whether you change the theme or what so ever. Previously WordPress core functionality does not have this feature for site icons and themes had to manage it themselves.
4- Better Passwords:
Security is all time major concern for users over the globe. Now WordPress provides suggestions for strong passwords by default. Also, WordPress will suggest strong passwords whenever user request to reset the password. Furthermore, WordPress will send a password reset link instead of plain text password while adding a new user.
Other Improvements
Smoother Admin Experience: Many refinements are done in WordPress admin interface in order to use it with any device.
Comments Turned Off: WordPress has turned off its comments section by default for pages and custom post type.
Easy Customization: WordPress has given Customizer link in admin tool bar on front-end. You can click on the customizer link in admin tool bar and easily customize your website on the go.
WordPress 4.3.1 Security Update:
WordPress Security Patch – WordPress 4.3.1 is released on September 15th, 2015 with a major focus on fixing cross site scripting and privilege escalation issues:
Shahar Tal and Netanal Rubin from Check Point reported issue with cross site scripting while processing shortcodes tags (CVE-2015-5714).
In certain cases, such users who don't have proper rights can create and publish private posts and make them sticky. Again reported by Shahar Tal and Netanal Rubin from Check Point (CVE-2015-5715).
A cross site scripting was reported in user list table..
For more information you can view the release notes or list of changes as well.