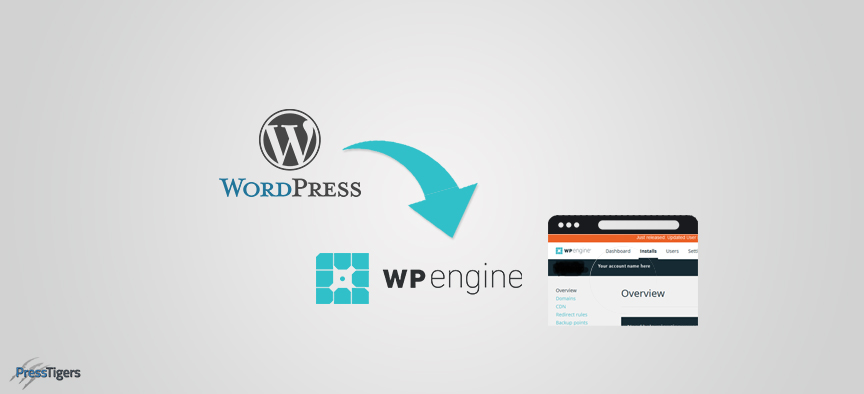 PressTigers
How to Migrate your WP site to WP Engine
WP hosting platform is one of the best in market because WP Engine provides excellent customer service on top of innovation driven technology. According to WP Engine website, they have over 30,000 customers in 120 countries. Deploying a new WP website or migrating an existing WP site to WP Engine is one of the most critical tasks in a project's life span.
Let's Start:
Now let's start migrating your WordPress site to your WP Engine hosting. First of all, you need to purchase WP Engine hosting plans, you can choose any plan based on your need. After purchasing, you can have the access to your WP Engine account. Now you can get started by following the steps given below:
Step 1: Add Install
WP Engine hosting don't have a traditional cPanel UI, but it provides fast and efficient way to deploy WordPress site. For this, you have to go to WP Engine hosting Dashboard and click on "Add install" button to add WordPress install. See the screenshot below:

WordPress install means basic WordPress installation with basic Plugins and Themes. You don't have to do anything to install WordPress. What you have to do is just one click and WP Engine will do your work.
Now you have to choose a unique install name. For example, you choose your install name as "ptwp" then you can access your WP Engine install from this URL (http://ptwp.wpengine.com/). To get a clear picture, see the screenshot below: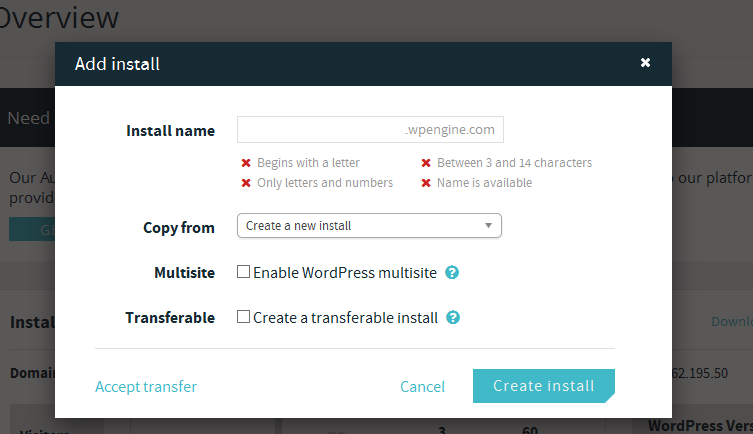 Step 2: Access WordPress Install
After adding WordPress Install, you can now access installations list from your Dashboard. You can also add more installations if your purchasing plans support. Below screenshot represents the access to your install: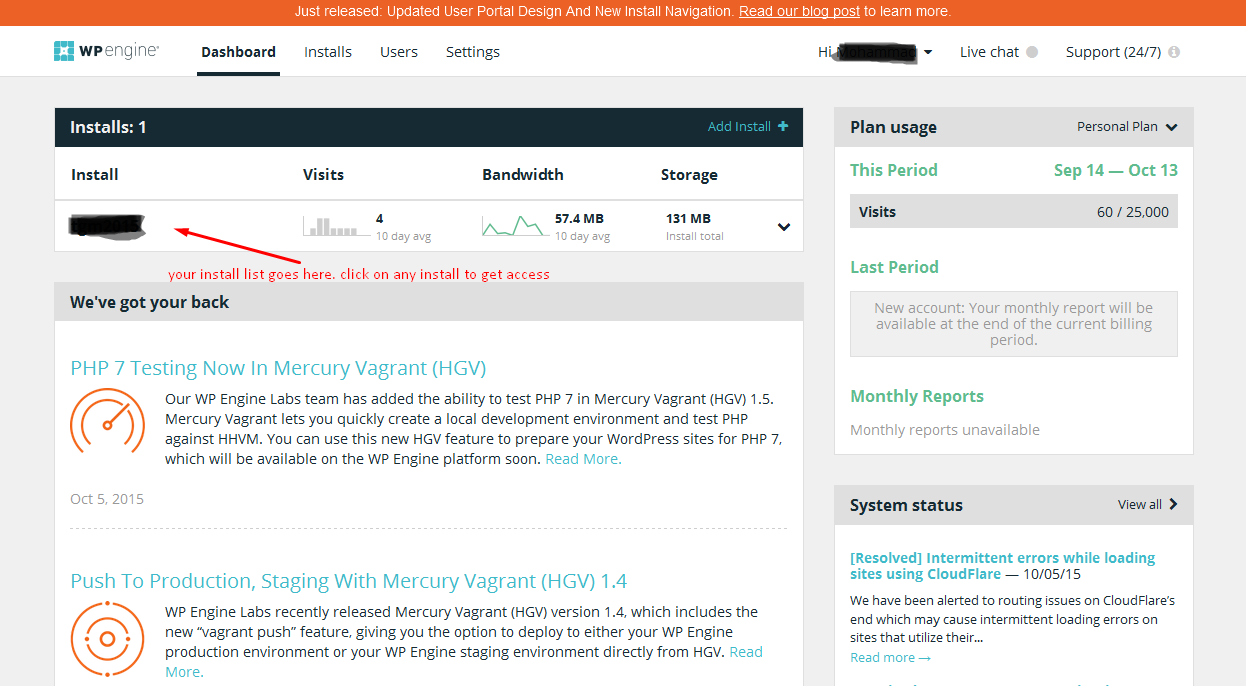 After selecting your install, you will be directed to install Overview Page Form where you can access the following information:
WP admin
IP address
Domain
SSL
Redirect
Install URL
Phpmyadmin
SFTP:

Staging (used for development environment, you can access the staging SFTP form here)
Production (list site SFTP access here).
Here is the screenshot for install overview page: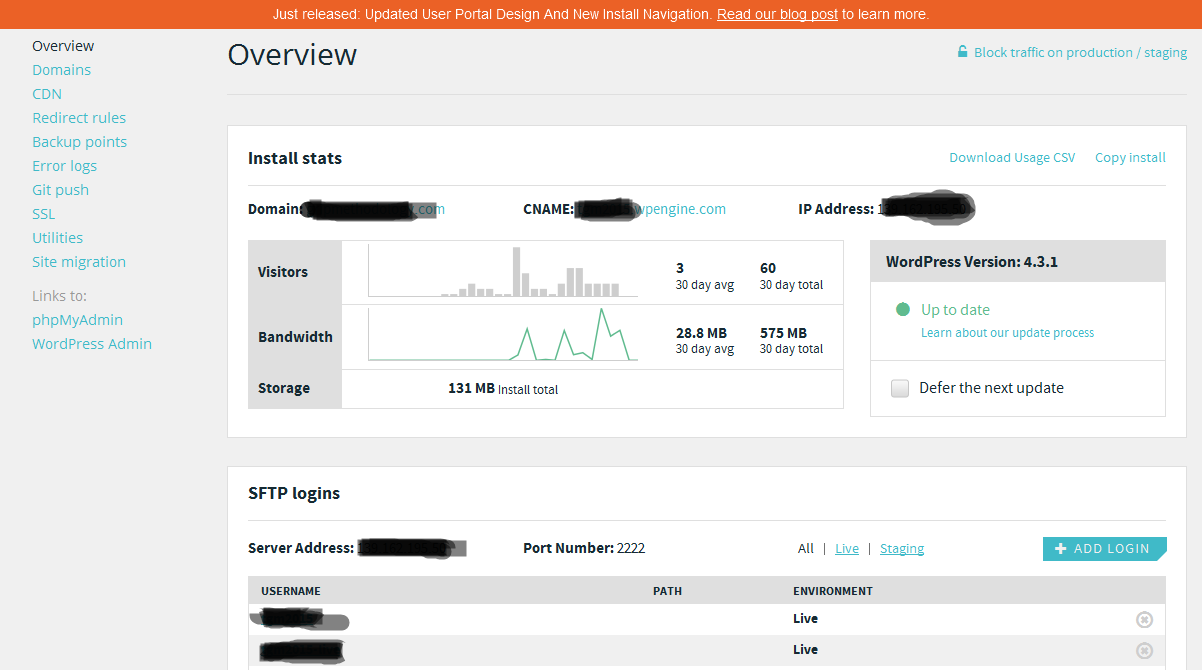 Now you can access your WP install.
Step 3: Migration
Download your WordPress site (which you wanted to migrate to WP Engine) in wp-content folder and export your WordPress Database SQL file. Now, add a new login to access the SFTP of your WP Engine install and upload your wp-content folder, and then delete/rename the wp-content folder which already exists there. Below screenshot is for the addition of login to access SFTP: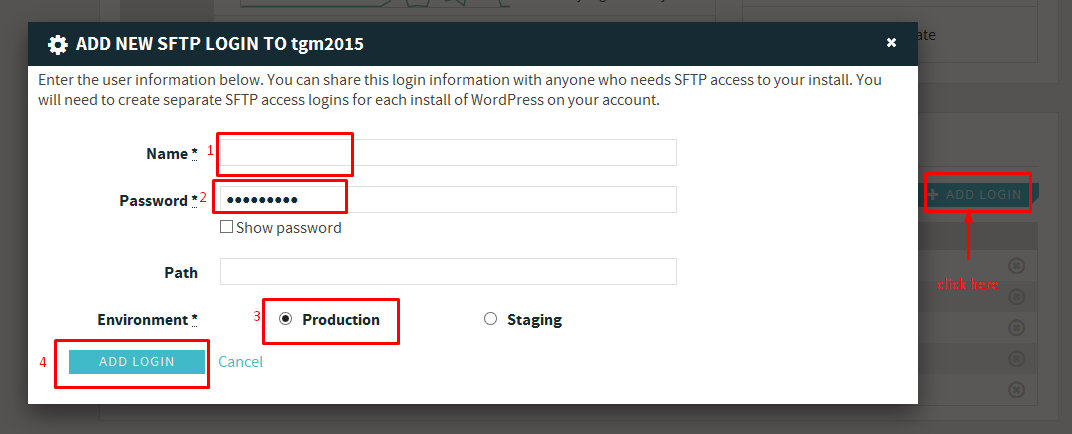 Now go to your FTP client (Filezilla, etc.) and access your install directory along with the upload your wp-content folder. Note that the Server name is actually the IP Address given on your install Overview page. Below screenshot is for the better understanding of how to replace wp-content folder:
Step 4: Update the DataBase
Now access your install phpmyadmin panel and import your new Database file here. But before doing so, you have to take care of some stuff.
Go to your install phpmyadmin, then go to wp-users and wp-usermeta table. Save your user account name and WP Engine data because you have to add this account after replacing this database with your new website database. If you have saved your wpengine account data, then you can process. If not saved them yet, then it would be better to save those data files before further processing. Here is the screenshot for wpengine account from phpymadmin:

Now drop all of your Database tables and import your website's Database SQL file. After successfully importing the database, you can add a new account manually with the name "wpengine" that you have saved earlier. Replace your URLs from old to new URLs in the database.
That's it. You are done.
Now you can access your website on WP Engine install. But you can't access the WP admin panel because WP Engine have to install their plugin for managing your install. For this, you can talk to WP Engine support and they will resolve your problem in no time.