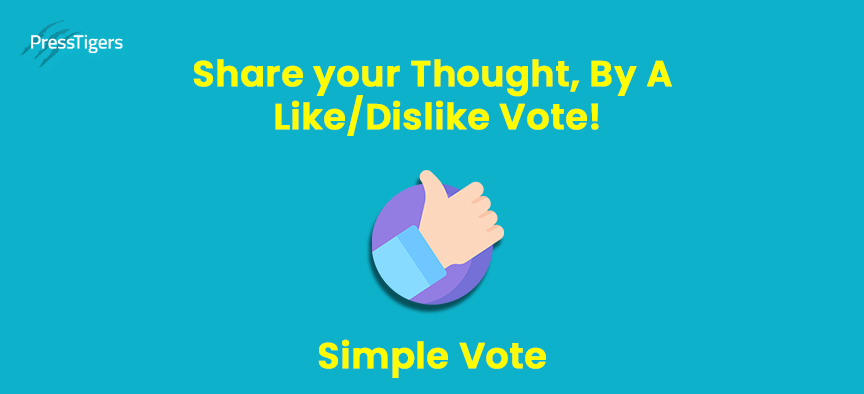 PressTigers
Simple Vote – Share your Thought, By A Like/Dislike Vote!
You know the great thing about democracy is that everyone has a voice! Simple Vote Plugin is exactly what your WordPress website needs!
We're living in a new age and freedom of expression is a thing that we shouldn't be afraid of. In fact, it should be given importance as speaking allows expression. In the online world, freedom of expression is just as important because it tells how a particular user feels about you. Feedback hence is important because it helps you shape up your strategies, be it for marketing or for products.
What is Simple Vote?
If you're a WordPress user and looking for WordPress voting plugins then we've got great news for you. It's a plugin called Simple Vote. Like the name suggests, it's a plugin that is simple to use and adds a voting option on all kinds of posts. The plugin is a lightweight plugin that you can easily install in your WordPress website. It's main purpose is to get an idea of how your users or customers view your post. It can be a great way to get feedback through voting.
The voting option is denoted through a like/dislike button. Your users can simply like or dislike a post and you will get an idea on how your post is doing. If you get a lot of likes on a post, you'll obviously know what kind of content your users prefer. On the other hand, more dislikes will indicate you shouldn't be posting content like that. Overall, it's just a great strategy to get useful engagement.
Here are some of the features of Simple Vote Plugin:
1- Simple to Use
The plugin is simple to install and configure on your WordPress website. Either you or users will not face any kind of complication.
2- Responsiveness
It will not slow down your website or make it lag. The plugin is 100% responsive and delivers great results.
3- Limitless
There's no limit to the maximum number of likes or dislikes. Regardless of the amount of traffic you have on your website, you'll be able to get likes/dislikes.
4- Add in Custom or Built-in Posts
Don't worry about the kind of posts you need to have to add the button. You can add the like/dislike option in custom and built-in posts with ease.
How to Configure Simple Vote Plugin?
Configuring Simple Vote Plugin is really easy. Just follow these steps to configure the Simple Vote Plugin:
Download the plugin from this link and install it on your WordPress website
once the plugin is installed, visit your admin panel menu and click on the Settings option.
By default, the Simple Vote like/dislike option will be displayed on all your posts. However, you have the option to not add the button by unchecking it.
All done, now your users can vote. Please note that if a user votes once, it won't be able to change back.
In a Nutshell
Simple Vote is a great plugin to drive in those engagements. It is easy to use and implement on all kinds of post types. Use it today and get that X-factor on your website!