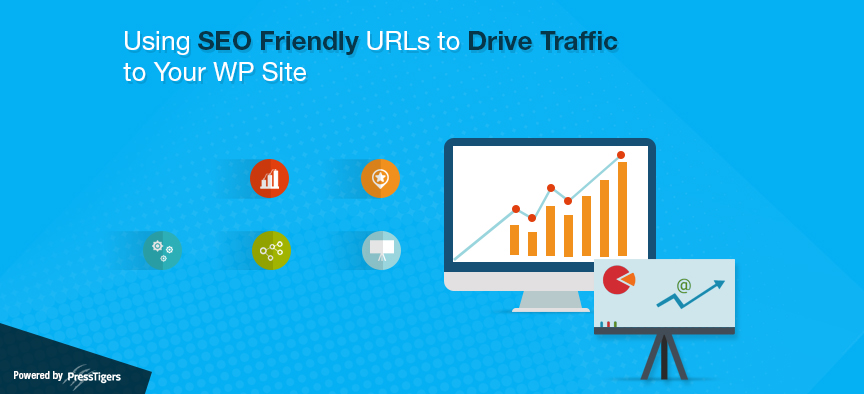 PressTigers
Using SEO Friendly URLs to Drive Traffic to Your WP Site
It is important for your WordPress site traffic that your webpage can be found in web crawlers for words and expressions related to what the site is offering. In various respects, it is essentially quality control for sites. The solution is using SEO Friendly URLs. So what are they exactly and how can you use them to enhance your web traffic?
These kind of URLs have keywords that describe the article, and they're definitely not hard to read by both individuals and web crawlers. They also upgrade your chances to rank higher in web searchers.
SEO Friendly URL example
https://www.presstigers.com/how-to-install-wordpress/
Non-SEO Friendly URL example
https://www.presstigers.com/?p=1224
You can change your existing URL to make it more SEO friendly. WordPress URL links are called permalinks. You can change the permalink by visiting the Dashboard of your WordPress site Settings and then click on PERMALINKS:

There are multiple options in the permalink area. Let's discuss them one by one.
Plain
The default WordPress URL structure is called plain. It is also nicknamed as Ugly permalink; definitely not an SEO friendly option.
Date and Name
The day and name is considered SEO friendly as it has the post name in it. Regardless with dates, the URL becomes lengthy. But it is not recommended because content outdated is being risky.
Numeric
This option will create archives in the URL.
Post Name
Using relevant post name is the most SEO friendly option because it is short and specific.
Custom Structure
The custom structure is used for larger publications and is also SEO friendly. Tags or custom URL structure include:
%year%
%monthnum%
%day%
%hour%
%minute%
%second%
%postname%
%post_id%
%category%
%author%