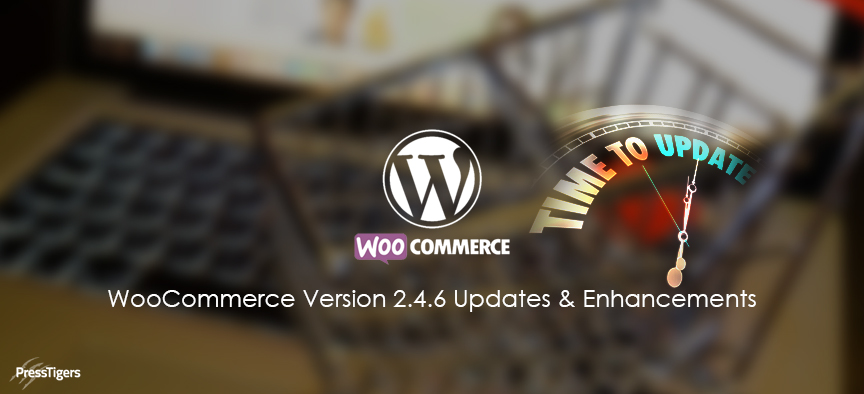 PressTigers
WooCommerce Version 2.4.6 Updates & Enhancements
WooCommerce is the world's fastest growing e-Commerce platform. It is a free e-commerce plugin that allows you to sell anything in the most prolific manner. It is built and integrated with WordPress and a quality based e-commerce solution. It gives both store owners and developers complete control of all customizable features to add strength to their online business.
WooCommerce – Diverse & Dynamic:
With WooCommerce, you can sell both physical and digital goods in all shapes and sizes. You can also offer product variations, multiple configurations, and instant downloads to shoppers, and even sell affiliate goods from online marketplaces.
Extensive, Adaptable & Open Source:
WooCommerce has a robust framework. You can scale your client's store all the way from basic to high-end (infinity and beyond). Built with a REST API, WooCommerce can integrate with any service virtually. Your store's data can be accessed anywhere, anytime, with 100% security. WooCommerce allows developers to easily create, modify, and grow a store that meets their specifications.
Enhancements In Version 2.4.6:
Many enhancements and upgrades have been made in the latest version (2.4.6) since the last well-known "Prowling Pangolin" version of woo-commerce. These include:
menu_order notices on IIS
Grouped product is_purchasable check during add to cart
Subscriptions 2.0 (unreleased) compatibility
Encode variation data in add_to_cart_url method
Bulk Update Variation: Set manage stock when manage_stock meta data is missing
Bulk Update Variation: Allow stock to be set to 0. During updates, only recreate .htaccess. If not using redirect download method, handle non standard decimals in flat rate costs.